Strawberry "Elsanta": description of the variety and cultivation agrotechnology
Appearance and flavor characteristics of the variety
"Elsanta" - the result of the crossing of two Dutch varieties of strawberries: "Holiday" (Holiday) and "Gorella" (Gorella). Breeders received a hybrid of medium early ripening. The variety has a long fruiting period with a moderate degree of yield. Up to 2 kg of berries can be harvested from the "square", therefore this variety is in demand from owners of small plots.
The "Elsanta" open bushes of small size, with medium foliage and scanty number of whiskers. Foliage with large. Bushes give little overgrowth (rosettes). Peduncles average in size, not very spreading. They are on tall and thick shoots.
The variety has relatively large cone-shaped berries, the average weight of one is 40-50 g. When fully ripe, the flesh is bright red, glossy, as evidenced by numerous photos of satisfied gardeners.The voids inside are absent, the seeds are yellowish and in generous quantity. The peduncle comes off easily. Berries have a classic strawberry flavor - delicately sweet, with a bit of sourness. Berries have an aroma.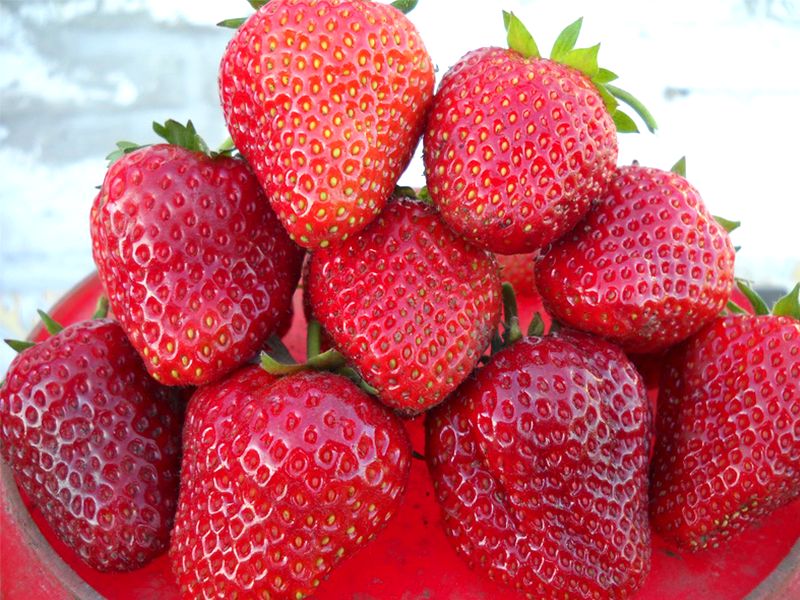 Due to the sufficient density of the pulp "Elsanta" suitable for long-term transportation. In room conditions can be stored for up to two or three days.
The variety is considered universal in terms of use. Elsanta berries are good in both fresh and frozen state. Jams and preserves of them have high taste.
Cultivation
Strawberries "Elsanta" should be planted in a permanent place in the fall, preferably in mid or late September. At this time, usually there are no high temperatures, which are not the best way to affect the process of rooting bushes. Planting is carried out according to the scheme 25x25 cm. Further care is reduced to timely watering and dressing.
The variety is winter-hardy enough. However, the indicators of drought resistance are average, therefore, Elsanta needs good watering or drip irrigation in the summer.
Variety steadfastly confronts many of the typical problems of strawberries, in particular fungal. Elsanta is rarely affected by gray rot and spotting, while it often suffers from powdery mildew.The weak point of the variety is the root system. When non-compliance with the cultivation of farming delicate roots of strawberries can rot.
"Elsanta" breeds mustache or rosettes. It can be grown both in open ground and in greenhouses. In general, "Elsanta" - one of the undemanding varieties of Victoria with optimum taste. It is popular with gardeners. Many who tried to cultivate other strawberry varieties later returned to the "Elsante".
[/L_REPEAT]
Related news
Smells in stores
How to clean a silver chain
How to use cream for stretch marks
What should be IQ
How to quickly learn to speak correctly and correctly
What are the known methods of making money on cryptocurrency? Which cryptocurrency is now profitable to buy
When the phone was invented
What is reef